Windows 10 Home Lifetime key
The Windows 10 Home license key will be sent to your email address immediately within 5 minutes after the payment (Rare cases: up to 8 hours). Please refer to Purchase Process.
It will come with official download links and installation instructions.
This key will activate Windows 10 Home on one PC and it stays activated till you format it.
You will get all official updates and support from Microsoft.
Supports all languages and works worldwide. Works for both 32/64-bit Windows 10 home Editions.
You can Update the PC, Login with your Microsoft account – No restrictions.
Supports Free upgrade to Windows 11 Home.
Note:
NO ANNUAL FEE – NO TIME LIMITATIONS – LICENSE VALID FOR THE LIFETIME.

You will receive an email containing the activation key.
Each license key is only for ONE computer.
If Windows Operating System is not installed on your PC, please install Windows first and then place an order.
This key will work only on Windows 10 Home Edition. This key will not work on Windows 10 Pro, Enterprise, N, Education, or any other version. Check Guide to buy the right product key for your Windows 10
Activate the key within 2 days, because our replacement Period is 2 days.
To find the difference between the following License Types: CLICK HERE
External Links
Windows 10 Home is the standard version of Windows 10, the baseline package designed for the general user primarily accessing Windows. This version contains all the core features targeting a broad consumer market.
CLICK HERE to learn more about the product features.
Looking for Windows 10 Pro Lifetime Key! CLICK HERE to Purchase.
Looking for the Latest Windows 11 Home Lifetime Key! CLICK HERE to Purchase.
Optional: Additional Information for Interested Readers
Ensure that online content is suitable for the age of children and monitor their internet activity by utilizing content filters, screen-time limits, weekly reports, geo-tracking, and other features.
Comprehensive, built-in, ongoing protection
Windows 10 offers the most secure Windows experience to date, providing comprehensive built-in protection at no additional cost.
Windows Hello. Passwords goodbye
With Windows Hello, you can simply be yourself. Sign in with greater security and three times faster using your face, fingerprint, or companion device.
Always up to date
Offers new features and security updates on a regular basis and in accordance with your preferences. Schedule updates for a later time, next week, or next month to suit your needs.
Always on defense
Devices are equipped with 360-degree comprehensive security, ranging from internet defense against viruses, malware, and ransomware to tamper protection.
What you need to get things done
Encompasses innovation to assist in productivity, including touchscreen support, user-friendly design, and features that promote focus and creativity..
Pick up where you left off
To access Timeline and view documents and activities in chronological order, you can click or tap the Task View icon in your taskbar or press Windows+Tab on your keyboard.
Secure and easy photo sharing
You can connect Microsoft Photos with your OneDrive account to synchronize and secure your photos and videos across all your devices, ensuring their safety even if your device is lost or damaged.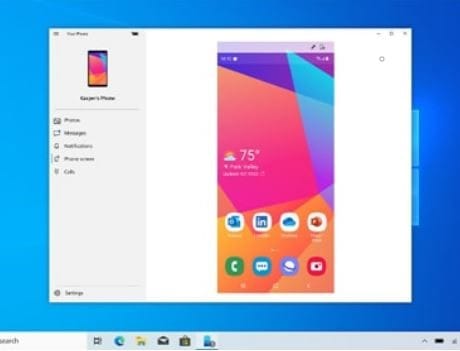 Safer surfing all day long
To ensure secure browsing, Windows 10 provides built-in protections such as Microsoft Defender SmartScreen, which can help prevent malware, phishing attacks, and access to suspicious websites.
Your PC and phone, together
With Windows 10, you can now access your Android phone's apps and notifications on your PC, ensuring you never miss a text or notification.
Desktop groups
Introducing desktop groups, allowing you to organize open apps and windows into separate "desktops" to facilitate switching between work and play modes.
Redesigned Microsoft Store
The redesigned Microsoft Store on Windows 10 offers an easy-to-use platform for discovering apps, movies, and TV shows you love.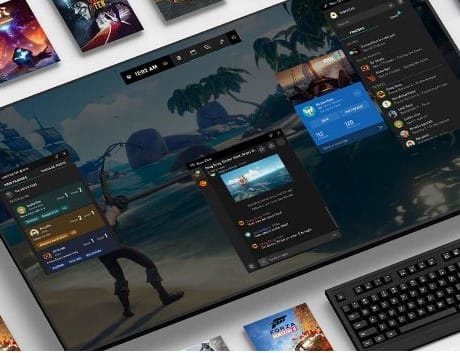 OneDrive backup
Provides OneDrive backup functionality, enabling your photos, documents, and other files to be securely stored in the cloud, and potentially recoverable in the event of a stolen or damaged PC.
Most-popular PC gaming platform on the planet
The preferred platform for professional gamers, as it offers the power and innovation necessary for graphics-intensive gaming experiences.
Windows 10 home for each of us
Accommodates various user needs, preferences, and work styles, making it a versatile operating system that adapts to individual user requirements.
| | |
| --- | --- |
| Processor: | 1 gigahertz (GHz) or faster compatible processor or System on a Chip (SoC) |
| RAM: | 1 gigabyte (GB) for 32-bit or 2 GB for 64-bit |
| Hard drive size: | 32GB or larger hard disk |
| Graphics card: | Compatible with DirectX 9 or later with WDDM 1.0 driver |
| Display: | 800×600 |
| Internet Connection: | Internet connectivity is necessary to perform updates and to download and take advantage of some features. |
** Remember, these are just the minimum requirements. If you play games or use heavy applications on your computer, you might need a higher-performance processor, more memory, or a more advanced graphics card.
Introducing Windows 10 Home: a powerful and reliable operating system by Microsoft that caters to professionals and businesses alike. With Windows 10 Home, you can expect enhanced performance, advanced features, and top-notch security, making it the perfect choice for any professional user.
The Product Key is essential to unlock all premium features and to receive future updates. You can easily access the Windows 10 Home OS for Microsoft Website and install the operating system on your device. The Windows 10 Home Activation Key ensures a seamless activation process, providing you with an authentic and fully functional operating system.
Windows 10 Home lifetime key
Microsoft Windows 10 Home Price is competitive, offering excellent value for your investment. Windows 10 Home Key offers can be found online, but it's always best to purchase a genuine key to ensure optimal performance and support. Windows 10 Home Key options are available at online retailers.
To purchase a Windows 10 Home Key Online visit reputable retailers. The Windows 10 Home Key Activation ensures that you have a genuine product, Windows 10 Home India makes it an affordable option for users in the country.
Explore Windows 10 Home License Price to get the best deal. Purchasing a genuine license guarantees the best experience and support. Windows 10 Home License Price and Windows 10 Home Licence Key options are available for purchase. Windows 10 Home License options are available for users looking to upgrade their current Windows OS.
Home License to get the most out of your investment. Upgrade to a powerful, feature-rich operating system perfect for home and businesses.